A lot of companies find that many of the quotation or contact requests, especially in B2B, often fail. The problem may not be the product, the price or the competitiveness of the market but simply an ineffective lead management.
Let's do an example: a company that offers marketing services receives a quote from its web portal. Very often the request comes from a generic mail such as info@mariorossi.it. Such mail is often full of messages and requests, so  the person responsible for email the communications that arrive at that email box might take 2/3 days (at best) to forward the mail to the sales man. When the request arrives at the sales man, he contacts the potential customer or, if he's busy, he postpone the activity. During this time, the users has probably contacted other companies that offers a similar service of MarioRossi's company. Once has contacted the possible customer, the agent, based on his experience, could evaluate the degree of interest of the prospect, his budget, and the complexity of the request.  Based on these factors, it will decide the urgency of making a quote and involving other business areas. For example, you may need to compare the marketing area with a strength analysis and lack of customer communication, in this case he has to create a report and submit a request to colleagues in the different business area.
Through the automation of process management, this cycle can be streamlined considerably and there is no risk of lack of information. 
For example, the received contact could be forwarded directly to the salesman, with a timer and at the expiration of it, if the lead is not taken over, the task is automatically assigned to a colleague. Once the lead is opened, the degree of urgency and customer category is immediately evaluated. In the case of a complex and high potential client that requires a brief with other business divisions, the request can be shared automatically with other figures, which can "converse" quickly about the customer's request. All the flow is traced in the application and the sales director can view the trend of the business flows and he can partecipate in case of high potential customers or with the company has an history. For each contact that you have received, the system will automatically evaluate whether it is a new user or a person who has already purchased in the past or has requested several quotes. In the case of prospects who repeatedly requested quotes without giving feedback, an automatic alert could be inserted.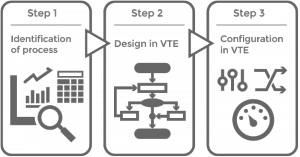 Are you interested to have more informations about our CRM + BPM open source solution that lets you to map and manage your business processes in automatic way?
Contact us at info@vtecrm.com
The VTECRM staff