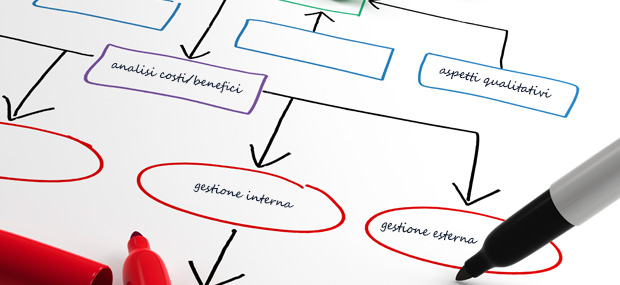 In today's markets, characterized by strong competitiveness, excess of offer compared to the demand and speed of change, where consumers are typically unfaithful, demanding and critics, it's essential for companies to use a CRM and establish a customer centric culture.
Often adopting a CRM application isn't enough…To make a CRM project really effective, it's imperative to analyze the business and to design, review, and map business processes that involve the customers.
According to a current research, Italy is ranked 25th in Europe as the digitization rate of the economy and society (0.36), but many companies are moving to reform their business and to digitalize processes to face the international competition.
What's really the digitalization of business processes?
Digitalize processes means review them and draw them based on the opportunities offered by technology and using it to simplify and automate their execution, tracking and using the exchanges of information that take place at all points of contact with customers.
It is therefore crucial to rethink business processes in a digital way.
Today, indeed, the customer has a very different behavior than in the past and is very difficult to reach it throughout the customer journey without the help of a solution that allows to map the processes. 
How can I map business processes?
Defining business flows is a fundamental activity that needs to be face periodically.
The basic steps of the activity are the follows:
•Defining goals, for example the management of specific activities, improving communication between different departments, etc.
•Identifying the company figures involved in the process
•Identifying process components (what are the specific tasks each team member must do to successfully complete the process)
  Create a graphical representation of the processes
  Periodically review of the reports and of the results obtained
VTENEXT is an open source CRM solution, enriched with process manager functions.
Customers that using VTE NEXT to manage customer business processes have found:
Faster and more efficient procedures
Substantial reduction of human error in the performance of activities
Speed and ease of learning of new procedures
More satisfied customers
For more information, write to info@vtecrm.com
The VTECRM staff