vtenext – CRM-BPM-IoT Solutions

At vtenext, we build process-driven solutions to solve critical issues and inefficiencies that hinder corporate growth and may compromise the way end customers perceive a brand.
We do this through reliable CRM-BPM IoT solutions that simplify processes, eliminate the occurrence of errors, reduce times and the number of personnel employed, and improve the efficiency of the various departments.
Below is an example of a software house that used vtenext to automate the management of expiring antivirus licences.
Process criticalities were related to the following:
1) use of time and human resources for the management of licence expiry dates, as each renewal process
had to be manually checked;
2) existence of outstanding processes and non-activated licences due to distraction or human error;
3) high number of customer claims and requests for assistance to be dealt with.
With vtenext, the system manages and regularly updates the status of each licence through an automated flow.

The process-driven solution implemented starts as soon as the purchaser of the antivirus software installs it on their computer.
The first task updates the personal details and date fields in the vtenext system, and a timer enables the process to monitor daily the total days remaining until expiry of the licence.
Seven days before expiry, the process gateway starts a second task, which sends a reminder email to the end customer and a popup to the software house.
At this stage, if the licence has been renewed, a third task guides the process towards two different endpoints:
1) If the licence has been renewed, the new expiry date is saved and the process goes back to the beginning.
2) If the licence has not been renewed, the status switches to "discontinued" and the process ends.
With the new process, the time required for managing licence renewals is significantly shorter; every single licence is mapped and managed by the vtenext system and no longer needs any physical supervision by the operators.
Deadlines are scheduled, allocated to individual members of the software house staff and dealt with quickly, eliminating customer complaints and increasing satisfaction.
Moreover, the data entered into the vtenext system is used to generate internal reports and graphs to measure the quality of the service offered and design targeted promotional campaigns.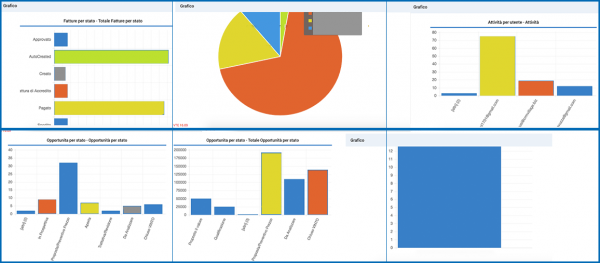 With vtenext and its process-driven IoT solutions the cost for implementing the process is far lower than the actual short and long-term benefits.
For further information on our CRM+BPM solutions, contact us at
info@vtenext.com