The new General Data Protection Regulation will enter into force in just a few days. There is still time to achieve full compliance, but the important thing is that internal processes for GDPR implementation are already in place.
To this end, we are pleased to present VTENEXT's tool for supporting GDPR implementation. It consists of two main elements:
a)
a GDPR KIT supporting the management of internal procedures required by the GDPR, and more specifically having to do with the following:
HR Management
– Tracing of Privacy Notice acceptances
– Newly hired employee kits
– Procedures for changing employee duties
– Status of training obligations and health checks
Traking of contrattual obligations (clients and suppliers)
–Creation of lists for compliance with contractual obligations
– Scheduled notifications to users
– Notifications to users concerning events to be managed
– Management of deadlines and assistance to data owners
The above procedures can be further modelled in real time to comply with specific business requirements, using the Process Manager engine (BPM).
In addition to using the KIT, VTENEXT users can manage in "self-service" mode requests coming from names entered into CRM (e.g. Leads, Contacts) following implementation of the GDPR. This is possible using a specifically designedAPP available to all registered names.
For example, if a contact asks to download a legible format of their recorded data, they will simply have to send an email to a given address (for example gdpr@nome-nostra-societa.it). They will automatically be given reserved access to VTNEXT's GDPR APP, where they will find their data in CSV format. This process takes place in real time, without any administrative impact for the organization!
For this reason we recommend using VTENEXT as a collector of all personal data  in a company's IT system. This will make all applications in our system (see the example below) GDPR compliant in a quick, easy way.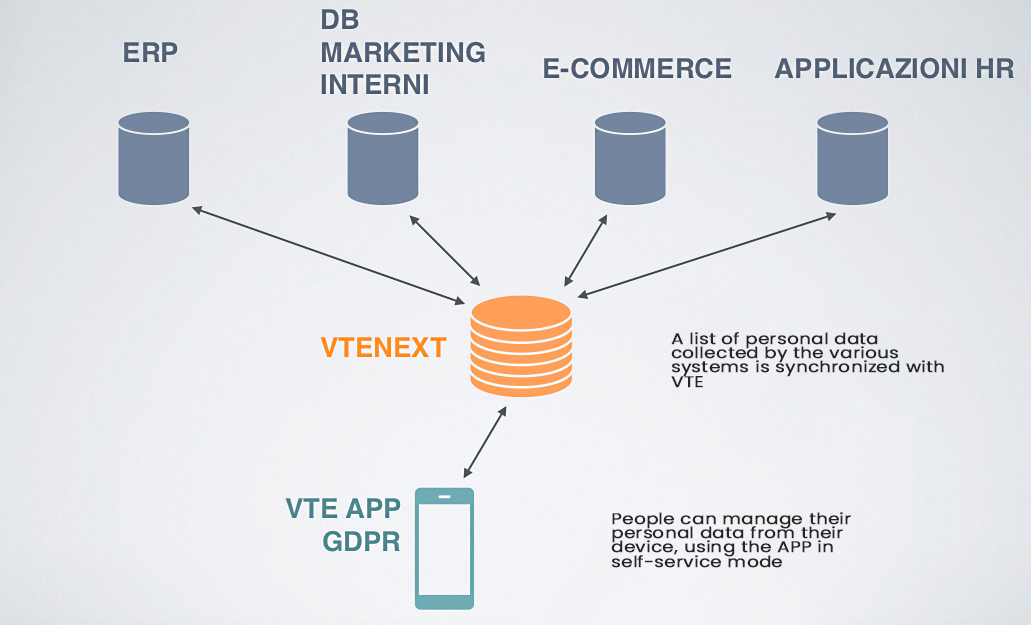 Lo staff VTENEXT