Why your e-commerce needs a CRM software
Online shopping has grown in double-digit numbers over the past year.
During the first quarter of 2021, e-commerce has grown by 78% on an annual basis in Italy, compared to 26% during the first quarter of 2020 (Salesforce Shopping Index).
Users are increasingly digital, they have greater confidence and expertise in accessing online services, as well as having many available options to choose from.
Moreover, modern consumers compare any kind of service to top competitors, such as Amazon, forcing company to raise the level of customer experience required to be able to make a difference.
Competition, of any kind, is right around the corner. One of the best tools you can use to keep up with the competition, by making your e-commerce competitive, is customer retention. Therefore, other than offering first-class products, you should also offer a perfect customer experience.   
The customer is increasingly digital and, during the last year and a half, the shift from offline to online has increased significantly.
Today, customers are the most diverse, from age range to level of digitization, and no longer look at online shopping only as a mode of purchase, but also as a real source of inspiration: they ask for information, evaluate alternatives. They buy and expect to be treated as would happen in a physical store, that is in a customized way and in line with their specific needs and preferences.
As an example, buyers expect to know how much stock is available for each product, whether there are similar alternatives or complementary products while they are shopping. After completing order, they expect progress updates through multiple communication channels, and to receive offers customized based on products they already purchased.
E-commerce is loaded with data and information that customers "voluntarily" provide during the registration phase and to be able to receive the goods: it would be a shame not to use them for your benefit or to create personalized user experiences! How to accomplish this? What you need is a CRM software.
CRM, i.e. Customer Relationship Management, is the software by definition that manages the relationship with customers, from the first contact to the post-sales stage.
Linking CRM with ecommerce can help you convert your occasional customers into loyal ones, who will buy your products for a long time, providing you with profitability, a stronger market position, time saving in handling customer problems and reduced costs.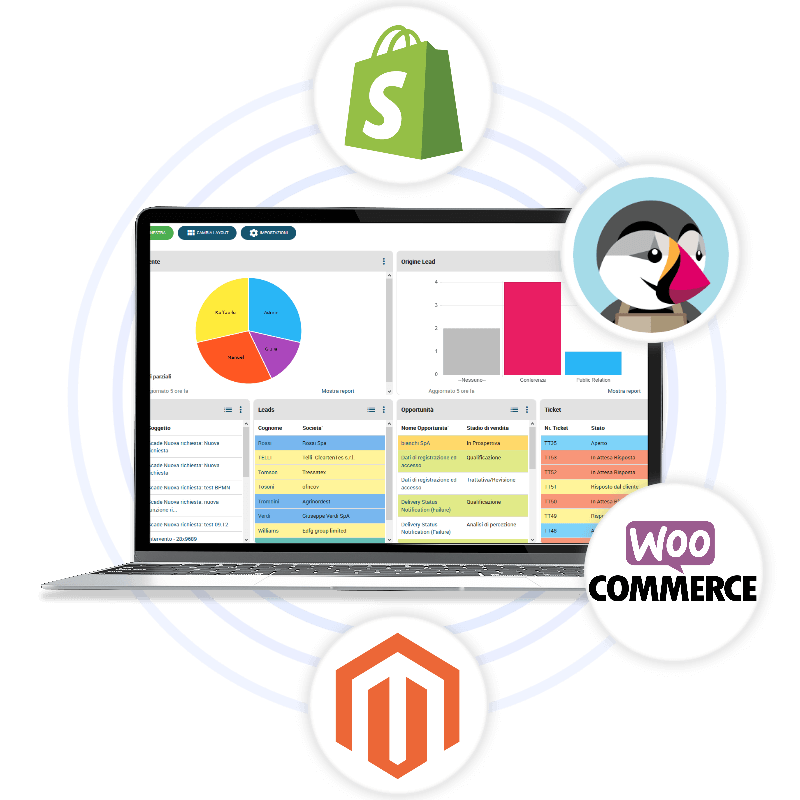 1. Understanding your customers: the first thing companies should do is studying their customers and getting to know them on a deep level, so as to plan marketing campaigns, blog contents, customized posts for customer segments on social media. CRM helps you managing basic customer data such as age, place of residence, but also their preferences based on previous purchases.
2. Sharing information in a single cloud: CRM lets you share and track all the information about your customers in a single work environment, by making them accessible to all your collaborators in a quick and immediate way. You can also create digital, automatic management processes, such as the sending of customized promotions or emails.
3. Increasing conversion rates: once you understood who your customers are and collected all their information on the CRM, you can create a more effective sales pipeline, which can lead to faster conversions. All the information that the sales or support teams need is in one place: notes, e-mails, purchases made, orders, returns, refunds and complaints.
4. Preventing and managing the stock in a more efficient way: information on stock performance provides details about purchasing patterns and trending products. By integrating these data with customer information in the CRM, you will obtain a 360-degree view of your customers: understand how their tastes are evolving, how much they spent based on their age or place of residence and monitor which are the most successful products and which are causing more problems.
This can support you in producing or sourcing goods in advance, but also in identifying which products should be sponsored instead of others.
5. Supplying perfect customer service: if you want to retain your customers you cannot ignore a customer care that responds to their problems promptly.
In fact, the sale is just the first step in order to build a long-term relationship. Through the CRM you will not lose a single information and you will be able to manage the returns or complaints of your customers in a quick, effective way, by keeping their satisfaction level high and so ensuring the possibility of a re-purchase. You will also be able to provide specific information during the stage in which the customer evaluates whether to purchase a product, as if there were a virtual salesperson.

vtenext is a CRM solution capable of integrating the flexibility of an Open Source CRM with the power of a business process management engine (BPM).
In just a few minutes, you can integrate your e-commerce – Woocommerce, Prestashop, Shopify and Magento– to vtenext CRM and immediately start exploiting its potential for your online shopping site, by also creating automations easily.
With vtenext you can manage your e-commerce in a complete and efficient way:
Create customized customer profiles, keep track of the frequency and history of purchases
Provide a quick and targeted customer service thanks to the advanced tickets management
Create customized experiences for each customer, optimizing customer experience
Plan tailor-made cross- and up-selling campaigns
Manage orders and obtain updated reports on sales in real-time
Identify the most requested products and those who had most problems
Manage returns, refunds and claims in a quick and simple way
Keep track of the stock available in order to predict re-purchases in advance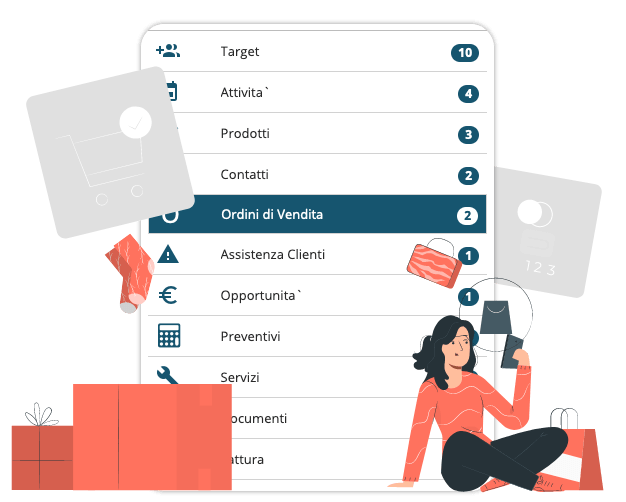 Activate your free trial and discover how to optimize your e-commerce with vtenext CRM: