How to manage customer support remotely
To date more and more companies had to organize themselves to manage their customers remotely during this quarantine period.
Especially in times of crisis, a customer's interaction with a company can trigger an immediate and persistent effect on his sense of trust and loyalty. In fact, a recent research by Zendesk shows how 74% of customers feel loyal to a particular brand or company but also underlines how quickly the loyalty so difficulty acquired can be lost: about half of the customers go elsewhere after a bad experience – number that goes up to 80% after the second bad experience.
Customer service is therefore vital because it helps companies not only maintaining customers but also to increase their value through upselling and cross selling. Companies that provide first-rate customer care, not only recover acquisition costs but cultivate strong customer loyalty. After all, customer service is a fundamental element for business operations that directly impacts ROI (Return on Investment) and significantly influences brand reputation.
On one hand, it is therefore necessary to immediately understand any changes in customer preferences, like we explained in the last article.
On the other, it is essential to have all the necessary tools both from an organizational and technological point of view to better manage customer assistance.
Why vtenext and a process logic can help to manage customer service remotely
In particular, through vtenext it is possible:
Provide clear and precise answers in the shortest possible time: by transforming external requests into tickets, it is possible to assign them to the person in charge, who, by accessing the shared platform, will be able to view and manage them easily even remotely. All the interventions carried out can also be reported and measured through the SLA function for continuous improvement of flows.
Shorten the distances between company and customer: through the customer portal it is possible to share documents and FAQs with your customers, allowing them to open requests for assistance (tickets) and to solve some problems in total autonomy.
Collect and share requests vtenext allows not only the creation of assistance tickets through the customer portal, but to convey requests from different channels (email, thanks to the mail converter, phone calls and so on) and to share them with all the resources involved.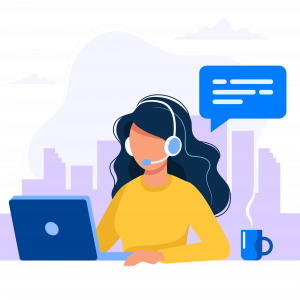 Know the product and the customer at best: the CRM is par excellence the container of all the information regarding the customer. Thanks to the implementation of ad hoc customer management processes, the operator will have access to always updated information even if he is not in close contact with colleagues. In the same way it will be possible to make available information or updates regarding each product. All activities and documents can also be easily shared with the work team through conversations and immediate communication flows.
Elasticity and quick adaptation to situations: to date, the decisions made by customers and the sheer volume of requests to be managed are continuously growing. By implementing specific processes for Customer Service and taking advantage of vtenext's BPMN functionality, it will be possible to map and improve innovative processes or implement new ones when needed in a short time.
The process itself will guide the user who, even remotely, will know all the steps to follow without making mistakes.
Following the pandemic of COVID-19, we decided to make our platform available for free until 30 June: take advantage of the time available and discover vtenext at this