With BPM features of VTENEXT, the latest version of VTECRM  you can automate business processes and model the CRM solution according to your needs.
Digitalizing processes means reviewing and drawing them, using the technology to simplify and automate their execution and using exchanges of information that take place at all points of contact with the customer.
The idea of CRM sometimes is merely associated with business activities and flows, forgetting that the relationship with the customer involves all the points of contact with him: from marketing to sales and post-sale, services as well all the activities to maintaining the relationship.
Following an example of automated management of assistance process with VTE: 
A customer in B2B sector used a traditional CRM solution without BPM functionality to handle contract of assistance. The company has a staff of about 15 specialists providing service on the basis of specific contracts. The company needed more control on the requests, the expiry and renewal of the contracts and the completeness of the services provided. The process has been mapped in VTE, providing alert and timing for better monitoring of expiring contracts and renewals.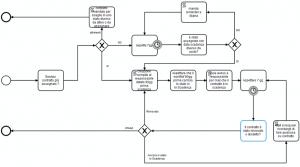 The activation of a customer service agreement activates an automatic process that includes checking of contract assignment, alert before expiration and mailing to the manager in case of contracts not yet renewed. Through BPM CRM and automated process management, it's possible to overcome disruptions such as failure of contract expiration notice or possible lost of customers.
Many organizations operating in different product sectors are using the BPM capabilities of VTENEXT with satisfaction, finding:
faster and more efficient business processes
substantial reduction of human error in the execution of activities
speed and ease of learning new procedures
more satisfied customers thanks to the reduced response time
better communication and exchange of information between different business areas
For further information please contact us at info@vtecrm.com
The VTECRM staff