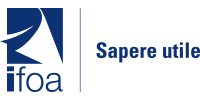 IFOA success story
A winning CRM ERP integration
BUSINESS
IFOA is an acronym for Chamber of Commerce Training and Service Centres.
It has been dealing with training for forty years, aiming at increasing professional skills, enhancing people's personal development, and reinforcing human capital and competitiveness for businesses and the economic system as a whole.
IFOA operates in most Italian regions and on a global scale, developing training activities in many specialist trades and organising job shops, technical services and consultancy.
Developed to connect the CRM with the ERP in order to ease the customer data share and management.
The application is customised as follows:
1) A customised module for sales propositions regarding services and training courses
2) Customised fields on personal data forms, with a special drop-down menu that speeds up consultations
3) Connection to different software used for e-mail marketing campaigns, simplifying the creation of newsletter addressee lists and result monitoring
Benefits
Easier searching, consulting and filtering of customer data
Faster distribution of information from the management program to the company network
Quicker replies to customers, better service
E-mail marketing campaigns are more effective and time and resources are saved