The Best Online CRM: try vtenext
With an Online CRM you'll be ablet to manage at best your Customer, breaking down communicational barriers and increasing sales.

Discover vtenext!
More than 1.000 happy customers use vtenext every day: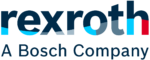 Why choose the best Online CRM
Better Communication

Internal chat, shared calendar, always updated records and many more features.

Using an Online CRM like vtenext you'll be able to access and share updated data, from the first contact to the post sales activities.

Doing so all company ares will always be on the same page providing Leads and Customers the best care.
Satisfied Customers


Performing features and a user-friendly interface to constantly monitor sales and the needs of each Customer.

By creating a long and lasting relation with each customer the result will be an higher loyalty the usually leads to a positive word of mouth and an higher tendency of keep buying.
Sales Automation


Internal processes digitizing makes it possible to create an unique, shared and easily automated flow.

This approach allows all the resouces involved in the process to save time and to closely monitor their performance.

Using an Online CRM like vtenext every task can be automated, making all the sales related activities scalables and more performing.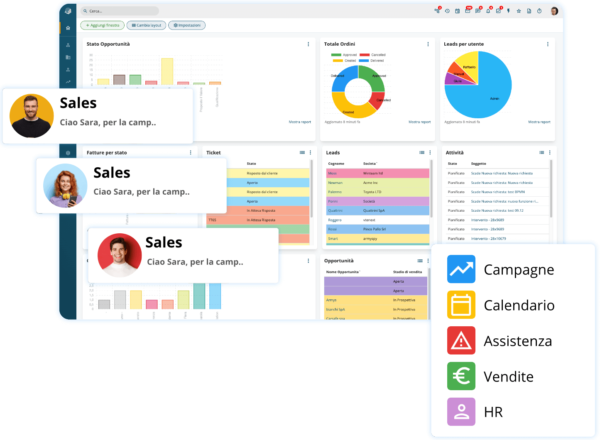 An All-in-one CRM Software



vtenext is an Online All-in-one CRM Software, available for Mac Os and Windows, with all the strategic features to manage Leads and Customers at best, like:

Shared Calendar and Internal Chat

Modules Leads/Quotes/Offers/Product Sheets


Newsletter and Email Marketing

Customer Portal

Helpdesk and SLA Management


Project Management/GANTT

Schaduled Reports
Business Processes Automation



vtenext distinctive trait is the BPM engine natively integrated to draw, digitize and automate every business process, creating customized work flows.
Using this approach more than 80% of internal processes can be easily digitized and automated, saving both time and money.

Some examples? Email automation, prompt took in charge of every new Lead, reminder on Quotes and commercial offers what are about to expire.. and many more!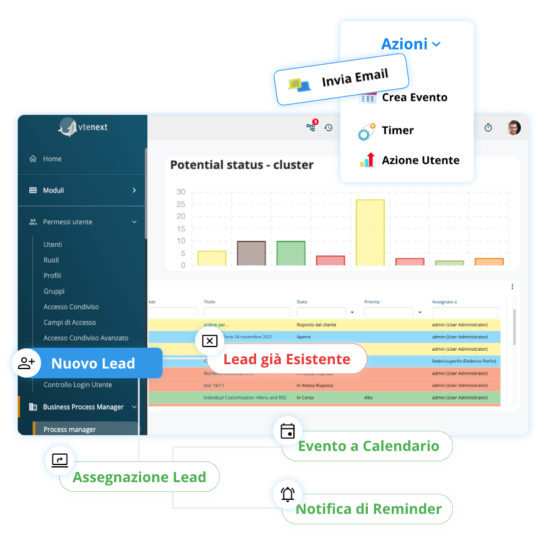 CRM online and more

All the classic features and more to manage each interaction with your Customers, from the first contact to the Customer Service, with vtenext you can easily connect all the applications used creating a single database of shared data.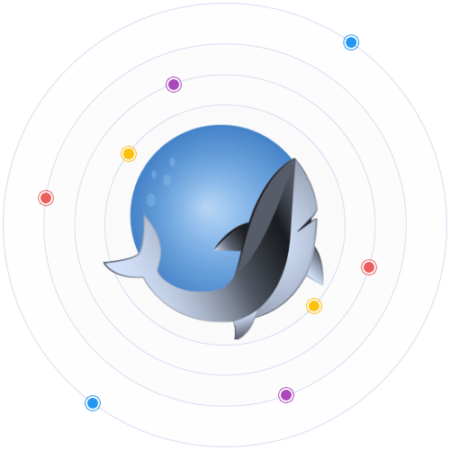 100 + Integrations

Promoting the exchange of information among the various business areas is up to date crucial to create a performing strategy and to build a loyal Customer Base.
Thanks to its Open Source vtenext Online CRM can easily integrate with the most popular applications: ERPs, Email Marketing Software, Contact Centers and more!

Manage your Customers On the Move



With Wilson CRM Mobile App for iOS and Android you can access the data of your Online CRM on the move.
You wil be able to schedule appontiments, get ready for a meeting, manage your dayly tasks, answer to each Customer request providing a performing Customer Service and so on.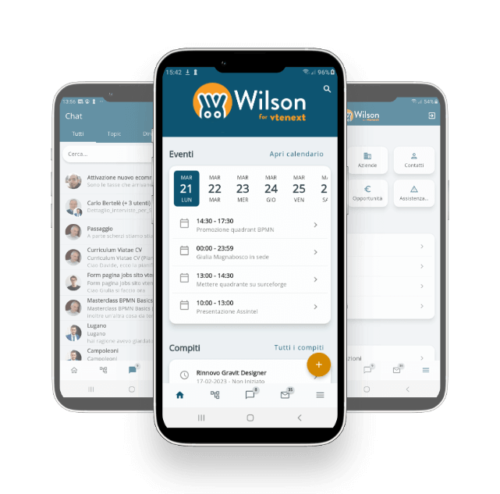 "Thanks to vtenext and its extreme flexibility and integration speed with other systems not only we manage complex business processes but also ease the user, allowing the possibility to work on a single platform, while eliminating the probability of errors and reducing the time needed for each activity."
– Diana Setaro IT & Business Excellence Manager at Bosch Rexroth