What an open source CRM like vtenext gives you
It helps you to improve the communication with your customer and to acquire new ones.
It doesn't matter which field you are operating in, using a CRM like vtenext, you will be able to acquire, preserve and analyze all the datas of your customer and potential ones in a efficient way. The possibility to register, preserve and manage the informations within the CRM will allow you to display them in any moment and to have complete picture of the history and the behavior of your customers and leads.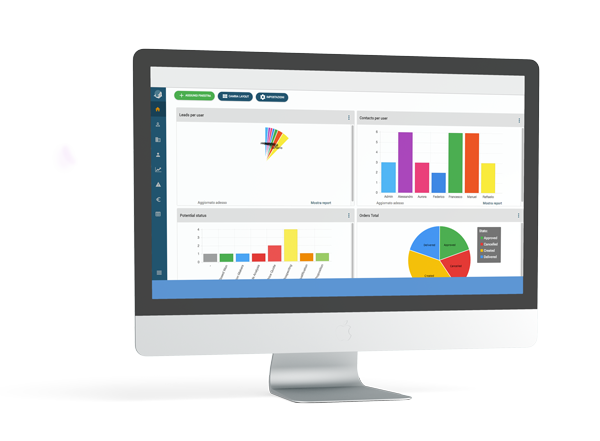 Using the CRM you will be able to:

organize and analyze all the information coming from customers – design customized strategies for each customer – display the results and eventually decide to potentiate or revise them – all the informations regarding each customer will be stored in a specific place within the CRM, without the need to do long and boring researches.

hybrid CRM
Take advantage of all the potentialities of the BPMN
Vtenext is the only hybrid open source CRM solution. In addition to the tools for the customer management it is natively integrated with a powerful BPMN (Business Process Manager) engine, through wich you can design customized flow charts to automate the processes in your business and to shorten the response time. Visit our website to discover the BPMN engine.
With vtenext CRM you will reach important results for your business. The extreme flexibility and condigurability make it the right tool for every field.
Immediate results for your business

Just imagine to ask some informations about a good you want to buy on the website of the producer. If the question is immediately followed by an answer and a good advice, you will probably buy that product. On the contrary, if the question is followed by a long silence, you will probably buy that product somewhere else. The CRM shortens the distance between you and your customer, allowing you to always offer them products in line with their needs and optimizing all the related steps, from the amministrative to the post-sales ones.
Make the difference from the competitors.

The CRM, even thanks to the endless possibilities offered by the BPMN engine for the creation of automatized processes, will allow you to meet the requests of your customers in a faster way. In doing so you will be able to make the difference from the competitors.
The customer satisfaction is our main focus

make your customer base grow – implement the loyalty – implement targeted strategies for potential and existing customers – propose complete solutions for customer