What does a CRM system like vtenext do
Whatever your market segment, a CRM solution like vtenext helps you acquire, store and analyze the data of your existing and potential customers in an organized, effective way. All data can be entered, stored and managed in the CRM system, and can be searched at any time to give you a clear, up-to-date history of your customers' and leads' behaviour.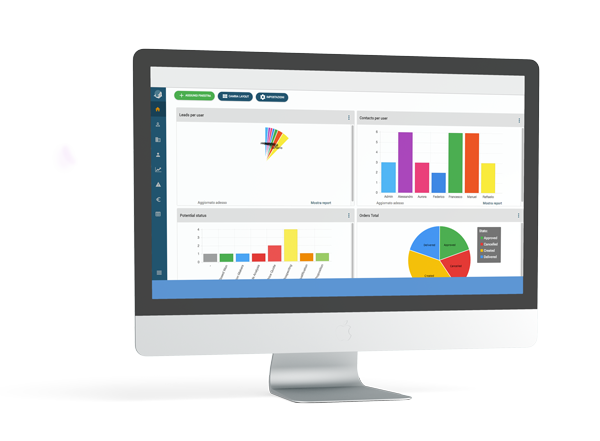 What does a CRM system like vtenext do

vtenext helps you organize all customer information, analyze the data collected, plan customer-targeted strategies, and view and review the results of actions carried out so you can expand or modify them. All customer-specific data is stored and made available in one single place, so lengthy, tedious searches and notes on paper become a thing of the past.
vtenext also tells you how many emails you have received, the type of campaign each customer or lead has shown interest in, and how long it has taken you to reply to or solve their specific request. In addition, you can draw up reports and statistics that will help you plan new, increasingly efficient marketing campaigns.

hybrid CRM
Take full advantage of the highly efficient processes featured in vtenext
vtenext is the only hybrid open-source CRM system. In addition to tools for managing customer relations, it features a built-in BPMN (business process manager) engine with which you can design flow charts to automate corporate processes and improve customer response times. Browse our website and explore our BPMN engine.
The vtenext CRM system delivers important results for your business. Its high level of flexibility and utmost configurability without the use of a code makes it the right tool for any manufacturing segment.
Immediate results for your business

Assume you're requesting information about a product you would like to purchase from a manufacturer's website. If your request receives an immediate reply and exhaustive information you will probably go ahead with the purchase. If however you do not hear from the manufacturer for long you will probably make your purchase elsewhere… What does a CRM system like vtenext do in this context? It shortens the distance between manufacturers and customers and helps manufacturers offer products and services that always correspond to specific customers' requirements, optimising cycles, from administrative ones to after-sales service.
Highlight the difference from your competitors.

Thanks to the endless possibilities offered by the BPM engine in terms of creation of automated processes, with a CRM system you can respond to your customers' requests more rapidly and efficiently. That's how you stand out from your competitors.
Customer satisfaction above all

Increase the number of your customers – improve customer retention – develop targeted strategies based on customer type – develop ad-hoc strategies for your leads – offer complete solutions for your customers with a view to servitization